Admin | 12 Aug, 2022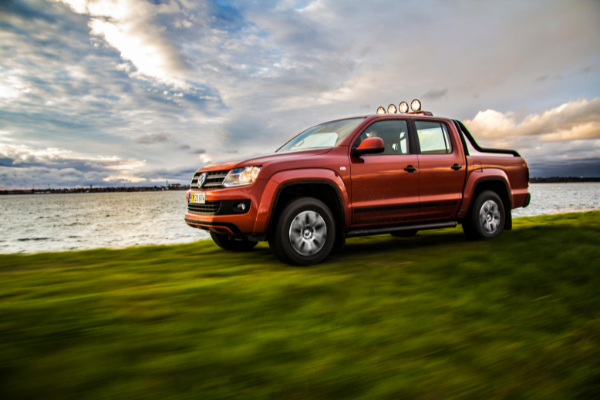 Best Pickup Trucks In India
Pickup tracks have charmed their way onto Indian roads, becoming one of India's favourite types of vehicle. The affordable prices of pickup trucks have made them a household name for the ordinary man and also made them a popular vehicle in the vehicle segments of India.
If you are here to know more about pickup trucks in India, we have the best list for you. Read further to find out more about each of our top picks!
1. Isuzu S-CAB
A reputed Japanese manufacturer, Isuzu mainly focuses on pickup trucks. The Isuzu S-CAB is one of the prominent models in India in the pickup truck segment. The Isuzu S-CAB has a premium steel body, a heavy-duty braking system, low inside vibrations, and less engine noise. the wheelbase of 2095 provides a lofty ground clearance, and its aerodynamically apt design guarantees optimal stability on rough terrain.
The Isuzu S-CAB has a manual transmission mated with a 5-speed gearbox and a cargo space of 1100 kgs maximum payload. The safety measures and utilities of S-CAB are given proper attention and it has a diesel engine with a capacity of 78 bhp of power. Compared to the rest of the models mentioned in the list, the Isuzu S-CAB is on the slightly expensive side.
2. Mahindra Imperio
Mahindra is a top player in this segment and this can be stated yet again by introducing the Mahindra Imperio. The Mahindra Imperio got its first facelift back in 2016 and is currently available in two cabin options – single and double. This pickup truck is considered one of India's sleek and clean variants of currently circulated pickup trucks.
The Mahindra Imperio has a potent engine, producing 75 bhp power and 220 Nm of torque, and also features 2489 ccs of engine displacement, a 2.5-liter standard BS4 compliant 4-cylinder DI engine fused with a 5-speed manual gearbox, and more. Imperio's cargo space is capable of carrying around 1240 kgs of payload and comes in a very attractive set up which includes power steering, power windows, keyless entry, etc.
3. Mahindra Bolero Camper
A dominant force in the segment of pickup trucks from the beginning, Bolero comes with the dimensions of length x width x height of 1481 mm x 1532 mm x 750 mm. The Mahindra Bolero Camper comes in the lightweight pickup truck category and is used for retail and personal purposes.
Incorporating a 2.5 liter four-cylinder DI turbocharged diesel engine with a capacity of 75 bhp power and 200 Nm of torque, the Mahindra Bolero Camper has a spacious cargo that can retain around 1000 kgs of weight. At peak condition, the Mahindra Bolero Camper has a mileage of 14 km. The cabin design of the Mahindra Bolero Camper is very comfortable owing to its power windows, high-quality AC, central locking, and more. It is still one of the best pickup trucks in India, even a decade later.
Similar read about cars suited for taxi service
4. Maruti Suzuki Eeco Cargo
Maruti Suzuki Eeco Cargo is one of the most fuel-efficient and affordable pickup trucks in India, boasting comfort, spaciousness, and sturdiness. The Maruti Suzuki Eeco Cargo is available with two engine options – CNG motor power and petrol. The storage space of Eeco Cargo can transport both products and people in superior numbers. The Eeco Cargo has minimalistic touches all over the outer body, with the exterior look resembling a van.
The interior of Eeco Cargo is modernised and is easily accessible to a maximum of 7 people, equipped with EBD and ABS. The Maruti Suzuki Eeco Cargo has a dual-tone interior, air conditioning, 15-kilometer mileage, integrated headrests, and more. The Eeco Cargo is not just lightweight, but also durable, incorporating many of Maruti's signature features.
Find verified second hand EECO models
5. Tata Yodha
One of the best pickup trucks in India, the Tata Yodha is impressive in terms of its durability, performance, and capability. Tata has consistently delivered top-quality vehicles with the best quality assurance. The Tata Yodha Pickup has a 2.2-liter BS-VI compliant four cylindrical diesel engine that has the capacity of 110 bhp of power and 250 Nm of torque.
Available in distinct payloads, Tata Yodha highest is 1700 kgs. Yodha's best and most impressive features include better fuel economy, great cabin space, a lightweight body, and more. This pickup truck is capable of heavy-duty in spite of its lightweight.
Since their inception in the early 30s, pickup trucks have been limited to certain manufacturing giants such as (Fiat, GM, and Ford Chrysler) delivering good quality models. Toyota, Nissan, and Jeep models are excellent at hauling and towing, making them ideal cars for long journeys. Though pickup trucks are in limited supply, they grab attention unlike any other.