Admin | 24 Jun, 2021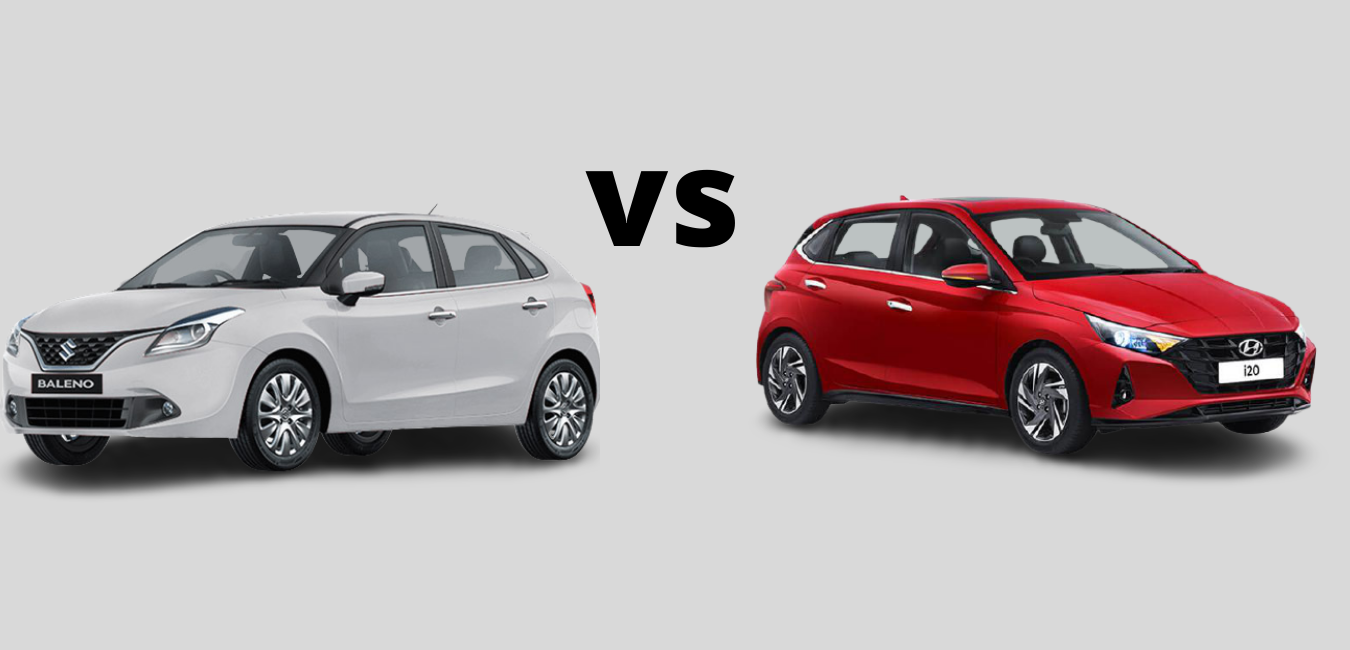 Hyundai i20 Vs Maruti Baleno: Used Car Buyer's Guide
Hyundai i20 and Maruti Baleno have been two successful premium models from the Korean and Indian car manufacturers. Both have been continuing the stride ahead breaking all the records to date. Having similar specifications and exceptional styling features, customers often are confused about which car to buy.
Although both are from different manufacturers, the differences between them are minimal. We, Indus Used Cars, have observed frequent queries from customers about which is the best model to choose from Hyundai i20 and Maruti Baleno. As we have both used Hyundai and used Baleno cars in Kerala, we believe it is our responsibility to provide a clear idea about the models to our customers.
Are you thinking of buying used Baleno? Or confused about used Hyundai cars in Kerala, that can be your lifetime companion? You may arrive at any of our used car showrooms across Kerala and discuss the subtle and detailed aspects of the cars. We are always at your help. Our professionals will aid you in choosing a suitable second hand car model for you.
Trust us to get you the best second hand car in Kerala. Talk to our team now.
Used Maruti Suzuki Baleno
Used Baleno has been one of the most preferred cars for youngsters thinking of buying a car from their own earned money. The powerful image and premium styling have augmented the road presence of the car. Consequently, you will find many customers searching to buy used Baleno in Kerala. As a result, you will not find many options of the model, except in reputed used car sellers like Indus Used Cars.
The spacious car can carry five adults easily. It will not feel cramped even if heavily built adults are sitting at the rear seats. The 1.2-litre BS-VI version VVT Petrol engine is another attraction that has been instrumental in sales of Maruti Baleno. Do check out the collection of used Baleno cars in our multi-brand used car showrooms around Kerala.
To discuss buying used Maruti cars in Kerala, contact us now.
Used Hyundai i20
Hyundai i20 is an elegant model to buy for young driving enthusiasts. The stylised car from India's favourite car manufacturer Hyundai has been successful in creating a strong customer-base through exclusive feature-loaded cars. Hyundai i20 has been one of those models that have splendid styling elements that appeal to youngsters.
Buying a used Hyundai i20 in Kerala is sure to deliver you great driving experience with fault-free drives. Reliability, the brand earned over the period of existence, makes them one of the right car brands to choose. Recognizing this, customers have been selecting used Hyundai i20.
The professional team at Indus Used Cars showrooms can help you with every aspect related to buying a used car in Kerala. We have all the pre-owned models from Hyundai, including Hyundai i20.
Do contact us now, and let's get the ball rolling.
Hyundai i20 VS Maruti Baleno Overall Comparison
Let's have a glance at the differences between the Hyundai i20 and Maruti Baleno. The technical and structural specifications would help you select the right one for you. We say this because some users want power above fuel efficiency and vice versa. The third group of customers will look for driving comfort or styling.
Each customer is unique in his or her way. We request you to reach out to our used car showroom in Kerala. The proficient professionals can guide you regarding used Maruti Baleno and Hyundai i20, which will help reach a decision. Further, you can ask for the prices of used Hyundai i20 and Maruti Baleno cars in Kerala.
The price of the used cars at Indus is fixed only after a thorough analysis of it. The manufacturing year, usage, internal and external condition, and on-road performance will be considered during evaluation. Thus, ensuring that our clients pay the right price, not an inflated one, for the used car you buy from us.
Hyundai i20 VS Maruti Baleno Structural Specifications
| | | |
| --- | --- | --- |
| | Maruti Suzuki Baleno | Hyundai i20 |
| Length | 3995 mm | 3995 mm |
| Width | 1745 mm | 1775 mm |
| Wheelbase | 2520 mm | 2580 mm |
| Ground Clearance | 170 mm | 170 mm |
| Height | 1510 | 1505 |
Hyundai i20 VS Maruti Baleno Engine Specs Comparison


Maruti Suzuki Baleno

Hyundai i20

Type

1.2-litre VVT (BS-VI compliant)

1.2-litre Kappa (BS-VI compliant)

Power

82 bhp @ 6000rpm

82 bhp @ 6000rpm

Torque

113 Nm @4200 rpm

115 Nm @4200 rpm

Fuel Efficiency

21+ kmpl

20+ kmpl

Hyundai i20 VS Maruti Baleno Safety Features Comparison
| | | |
| --- | --- | --- |
| | Maruti Suzuki Baleno | Hyundai i20 |
| Airbags | 02 | 02 |
| ABS with EBD | Yes | Yes |
| Seat Belt Warning | Yes | Yes |
| Brake Assist | Yes | No |
| Child Seat Anchor Points | Yes | No |
| Parking Sensor | Rear Only | Rear Only |
| Front Brake | Disc | Disc |
| Rear Brake | Drum | Drum |
The above-mentioned are some of the differences in the basic features of Maruti Suzuki Baleno and Hyundai i20. You can have a detailed discussion with our representatives to have an in-depth idea about cars. They will aid you in every step for buying the most suitable used car for you.
Indus Used Cars – For Buying Used Hyundai Cars and Maruti Baleno in Kerala
Indus has been the face of Maruti for more than three-decade. Our exclusive segment for second hand cars in Kerala, Indus Used Cars, has become the number one multi-brand pre-owned car dealership within a short span of the establishment itself. Our trustworthy customer support and committed performance have been pivotal in making us the top used car dealership in the state. Indus has around one hundred used car showrooms across Kerala. Therefore, finding one near your location is easy.
Drop by our showroom or check our website to know more about used cars available, or contact us now.